3 Low Carb Asparagus Breakfast Ideas – Keto Asparagus Recipes – Easy Ketogenic Diet Breakfast Inspiration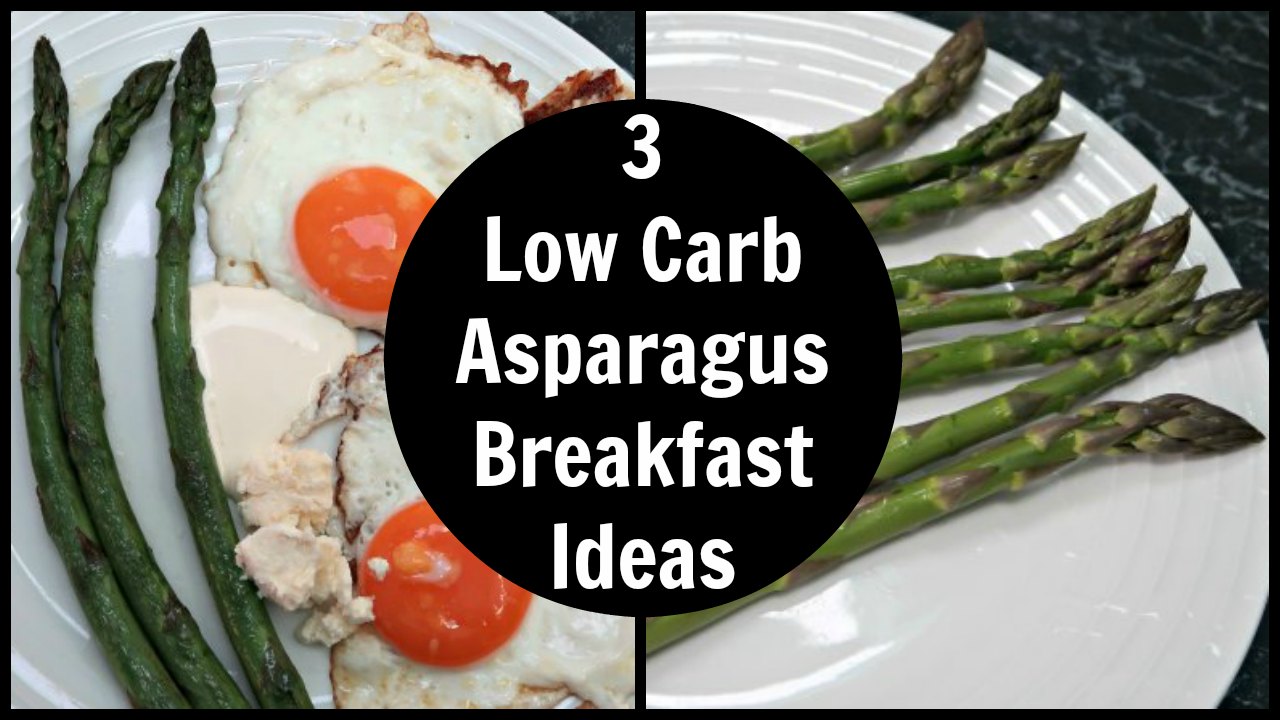 3 Low Carb Asparagus Breakfast Ideas
Asparagus season has just begun here in Australia. And, I've been enjoying the asparagus bounty by having a little fun with asparagus breakfast ideas.
Asparagus Preparation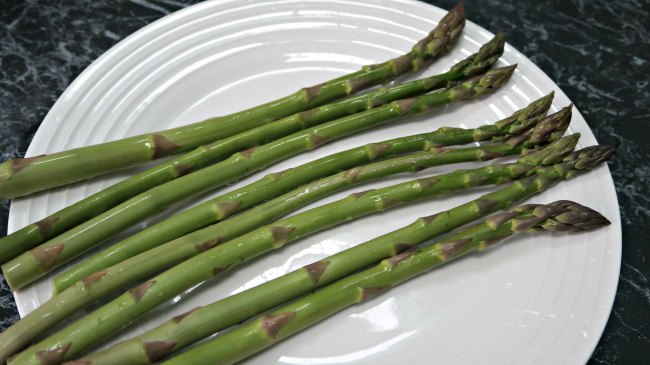 For each asparagus inspiration, first you need to actually prepare your asparagus.
You do that by giving the bunch a wash and bending along the bottom and it naturally snaps to help you remove the woody bottom. (I show you a demonstration of it in the video down the bottom of this blog post, so have a watch when you get there!
You'll find that the tips of the asparagus take much quicker to cook than the rest of the spears, so keep that in mind if you'll be cooking the asparagus for more than a few minutes. Think about separating the delicate tips to briefly cook at the last minute.
1. Cheese & Asparagus Omelette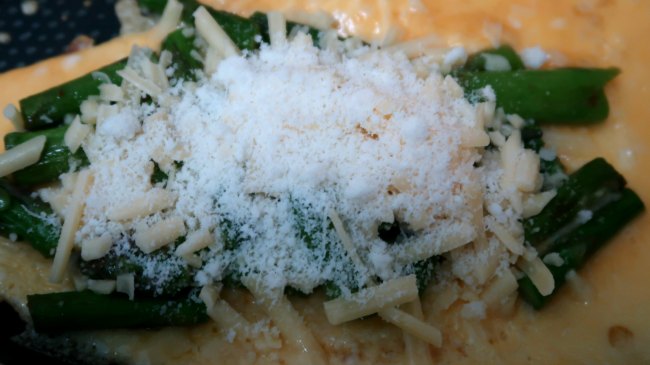 A classic omelette is delicious filled with a generous portion of cheese and chopped asparagus. I find that a bunch of asparagus feeds myself and my Husband perfectly. You may want to use more or less depending on your appetites and how many mouths you'll be feeding.
Start by chopping a bunch of asparagus into bite sized pieces and saute them in heaps of butter or coconut oil until almost cooked. Remove to a plate and get on with preparing your omelette.
Whisk together 2-3 eggs and a splash of cream per person. Once the asparagus has cooked and has been removed from the frying pan, heat more butter or coconut oil and add the whisked eggs.
Cook following your favourite omelette method, adding the cooked asparagus, a couple of tablespoons of grated cheese and a couple of teaspoons of grated parmesan when you're ready to fold your omelette over.
Cook until done to your liking and enjoy!
2. Breakfast Scramble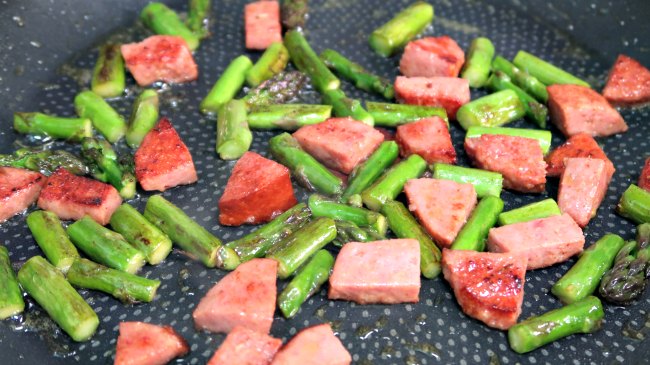 I just love a big breakfast scramble, using whatever keto friendly ingredients I happen to have to hand. In this instance I cooked up a bunch of asparagus, which I chopped into bite sized pieces, with chopped salami.
Once the asparagus and salami is perfectly cooked, pour over whisked eggs and cream and scramble to your liking.
3. Fried Eggs & Asparagus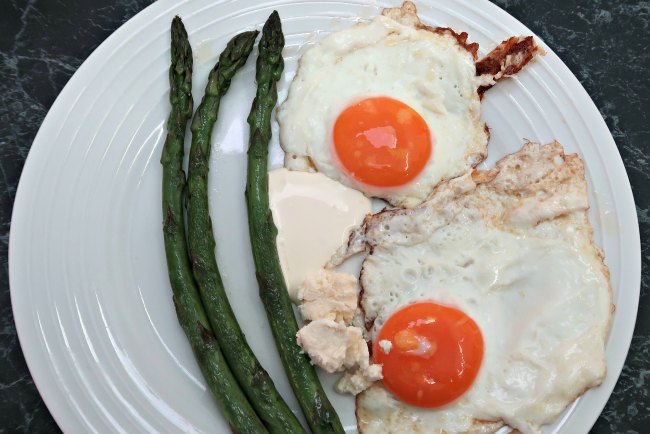 Enjoy the simplicity of fried eggs and sautéed asparagus by simply sautéing whole asparagus spears in heaps of butter and then frying eggs to your liking.
There's nothing quite like piercing a soft egg yolk with an asparagus spear. If you haven't tried it, then what are you waiting for?!
Asparagus Breakfast Ideas Video
Here's the video where I show you how to prepare these easy low carb breakfasts. Hit play below or click here to watch on YouTube.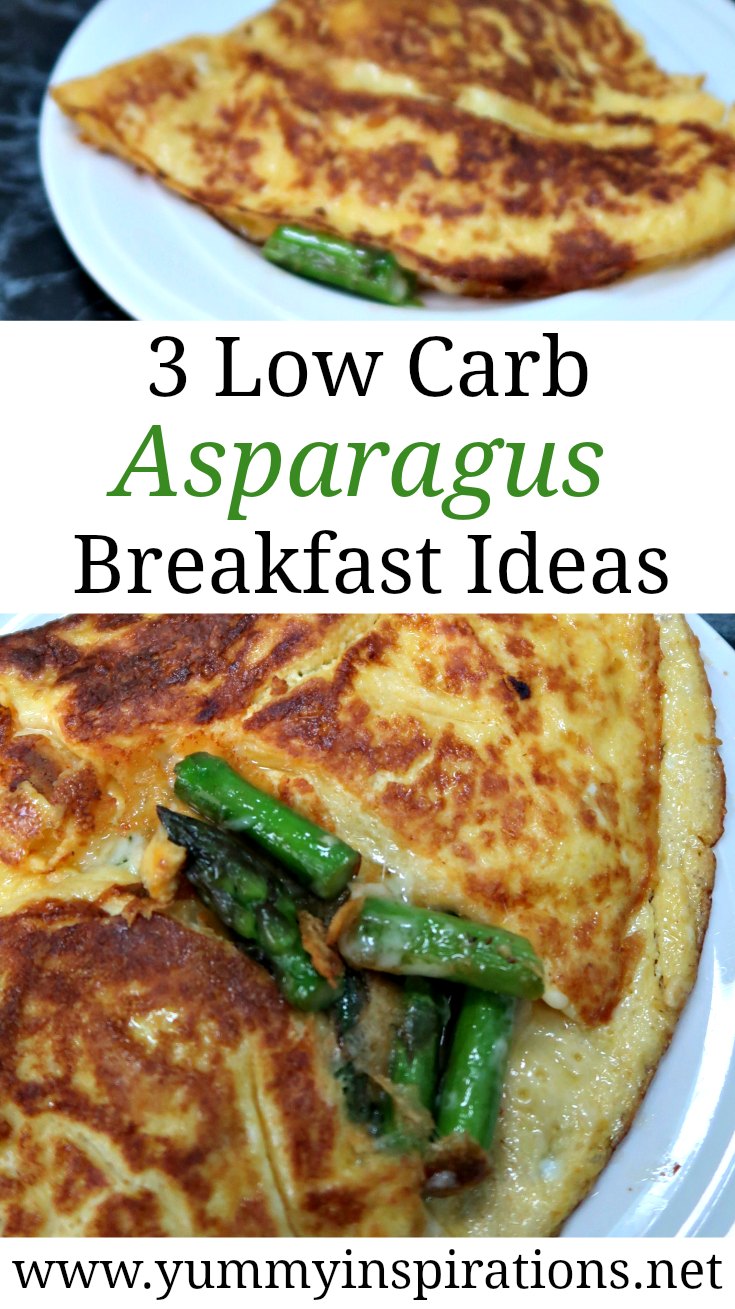 More Low Carb Breakfast Inspiration:
7 Low Carb Breakfasts Without Eggs
I launched the Quick Start To Keto Diet recently to help those of you wanting to start the Keto Diet but not sure how to begin. It's the helping hand I would have loved when I started and I put it together to help you. Click here to learn more.
Subscribe to receive the FREE weekly newsletter, packed full of easy recipes and food inspiration plus exclusive, subscriber only content. Click here to Subscribe by Email.
Disclaimer – this post is meant for informational post only and should not be construed as medical advice. Please consult with your health professional before making any dietary changes.
Disclosure – this post contains affiliate links.