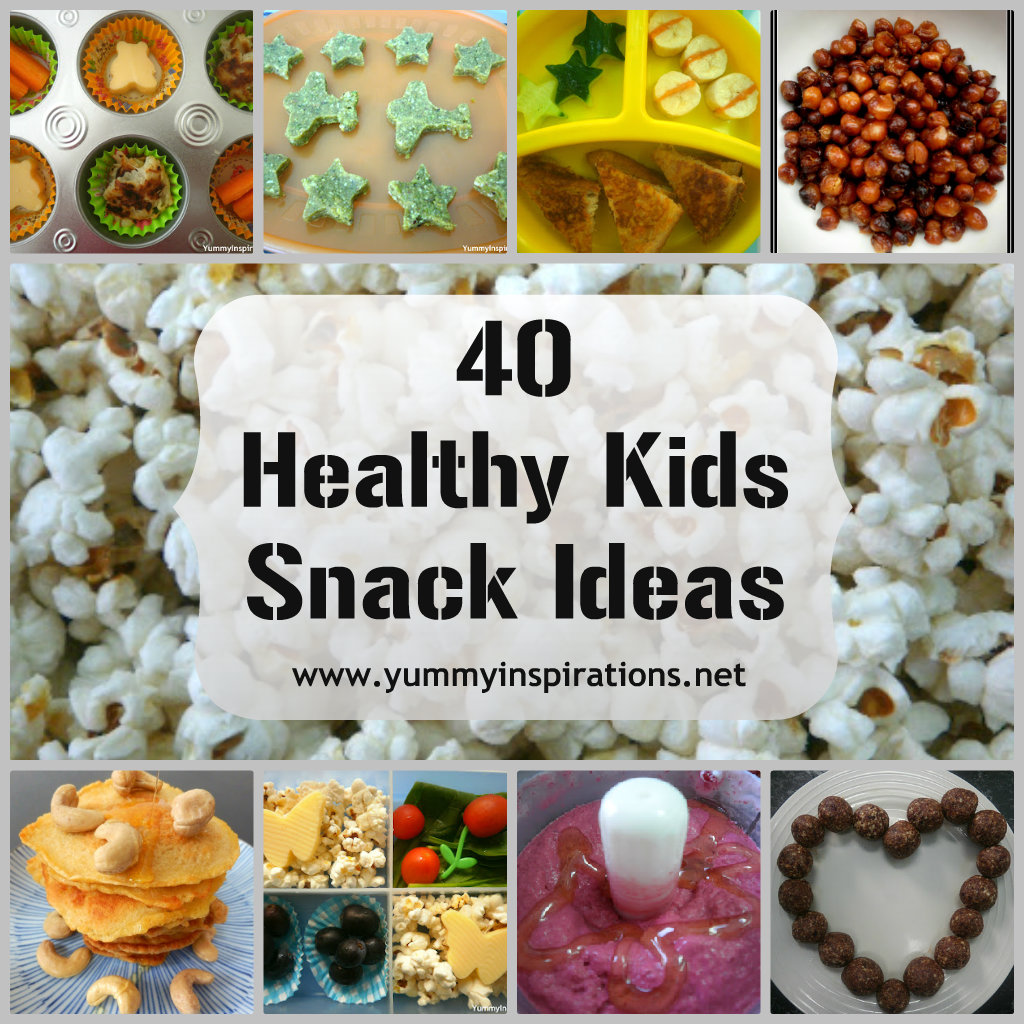 No matter how much the kids eat at mealtimes, it seems (with mine at least) that they always ask for food between meals – that's where healthy kids snacks come in. Well it's not a wonder with the amount of activity they do – they need a nutritious snack to help keep their energy levels up and keep them focused on their play activities.
I've compiled 40 Healthy Kids Snack Ideas to keep the kids fully energized between meals. Each snack idea packs a wholesome nutritional punch.
I've included some of my best loved kids snack idea recipes and those from some of my favorite bloggers… enjoy!
Carb Intensive Snack Ideas
These healthy kids snack ideas are deeply nourishing and nutritious instead of providing empty carb calories in a processed, carb-loaded snack:
Healthy Protein Snack Ideas
When there's a longer wait until the next meal, these healthy snacks could double as a mini meal:
Delicious Dairy Snack Ideas
Some simple snacks include dairy in it's purest forms – a glass of milk, a bowl of yoghurt or a few pieces of cheese, or you could prepare one of the following dairy snack ideas:
Fun Fruit Snack Ideas
A piece of fruit is quite simply the quickest and easiest natural snack available. Keeping plenty of fresh fruit available for snacking means there will always be something nutritious and delicious close to hand. If you want to be a little more creative, then go ahead and try these fun fruit snack ideas:
Healthy Vegetable Snack Ideas
You all know I'm always on the lookout to get my kids to eat more vegetables, so these fun kids snack ideas do the trick perfectly!
Coconut Snack Ideas
Coconut in all it's forms is a nutritious ingredient that's loaded with nourishing fats to keep the kids energy levels up.
I'd love to hear from you. Please share your most loved Healthy Kids Snack Ideas in the comments.
These are some of my favorite Bento Supplies
which help me with my healthy snack preparation:

Want more inspiration? Then Subscribe to my YouTube Channel for all sorts of Yummy Inspirations, like these 3 Ingredient Flourless Peanut Butter Cookies:

You won't be surprised by an annoying pop-up on this website asking you for your email address. Instead I'm going to invite you to enter your email address below to receive Your FREE Weekly Newsletter containing all sorts of Yummy Inspirations just for you:


Rest assured that your email address is safe and you can unsubscribe at any time!
Disclosure – this post contains affiliate links.