7 Low Carb Salad Ideas – A Week Of Keto Diet Salads Recipes – with recipes & video of all of the best low carb salads including chicken, egg, tuna and more!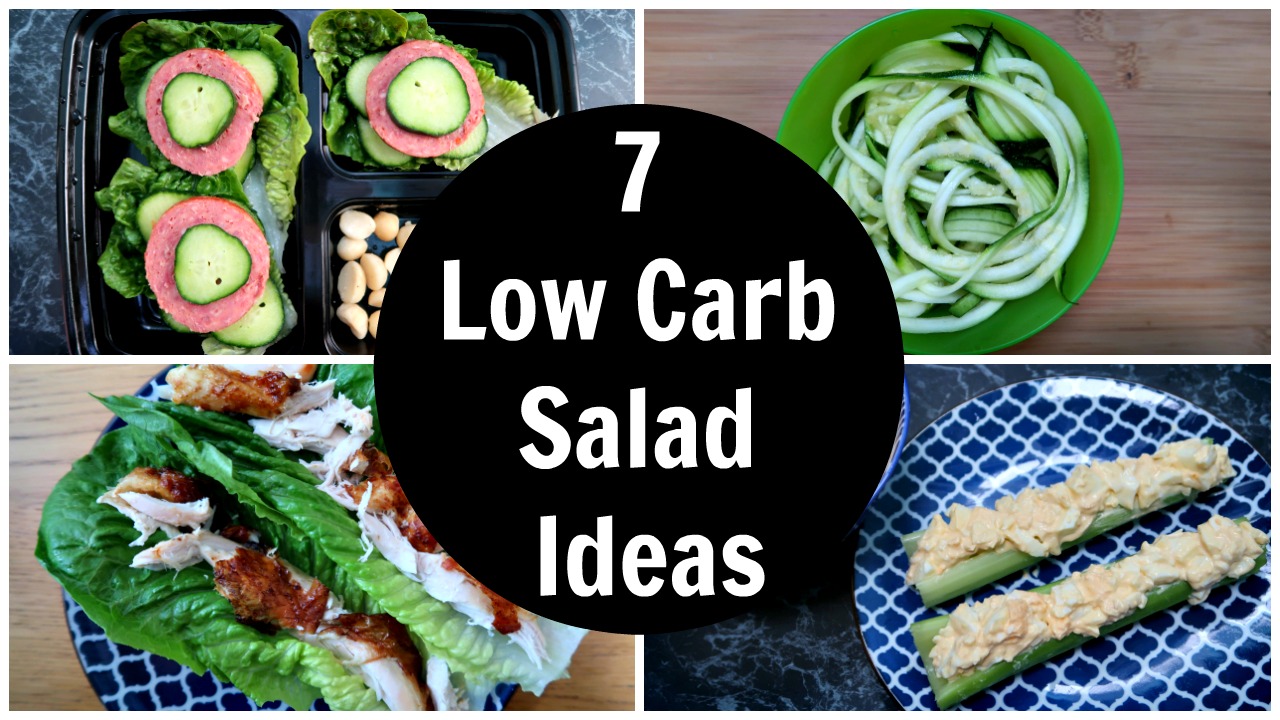 Low Carb Salad Ideas
There's such a delicious choice of low carb ingredients that can be enjoyed in salads, in this post I'm sharing 7 of my go to, all time favourite Ketogenic Diet friendly salad.
1. Faux Potato Salad aka Cauliflower Salad
Follow your favourite potato salad recipe, only replace the potatoes with chopped cauliflower instead.
My method of choice is sautéing the cauliflower in HEAPS of butter, then allowing the cooked cauliflower to cool before mixing through a 50/50 mix of sour cream and mayonnaise. Simple potato salad perfection – without the heavy carbs!
2. Big Green Salad
One of my personal favourite salad combinations is Spinach, Avocado, Cucumber and Feta. The ingredients combine to create a salad that's not only nourishing but super flavoursome too.
3. Chicken Salad Wraps
Leftover roast chicken makes an easy chicken salad. I like to fill lettuce cups with leftover roast chicken and top them with sour cream or mayo.
4. Zucchini Noodle Salad
Zucchini can easily be transformed into noodles with the help of a handy Spiralizer. You can enjoy your zucchini noodles (or zoodles) raw or cooked and keep them simple as is or flavour with avocado, feta, olive oil, avocado oil, cucumber or your vegetable and seasoning of choice.

5. Salami Salad Platter
Sandwich salami with cucumber and pop them inside lettuce cups, serve in a lunch box or on a platter.
6. Tuna Salad
Classic salad – my choice is a mix of mayo and sour cream on a bed of spinach.
7. Egg Salad
There are so many egg salad variations, you could follow my easy recipe below and you could also adapt the recipe to suit your personal tastes by adding paprika, curry powder, turmeric or your choice of seasoning to taste.
You can enjoy your low carb egg salad in celery sticks, lettuce cups or by the spoonful!
7 Low Carb Salad Ideas Video
Here's the video where I talk you through each of the low carb salad ideas in more detail:

I launched the Quick Start To Keto Diet recently to help those of you wanting to start the Keto Diet but not sure how to begin. It's the helping hand I would have loved when I started and I put it together to help you. Click here to learn more.
Subscribe to receive the FREE weekly newsletter, packed full of easy recipes and food inspiration plus exclusive, subscriber only content. Click here to Subscribe by Email.
Disclosure – this post contains affiliate links.