Keto Packed Lunch Ideas – low carb, ketogenic diet friendly ideas for lunch boxes and snacks on the go.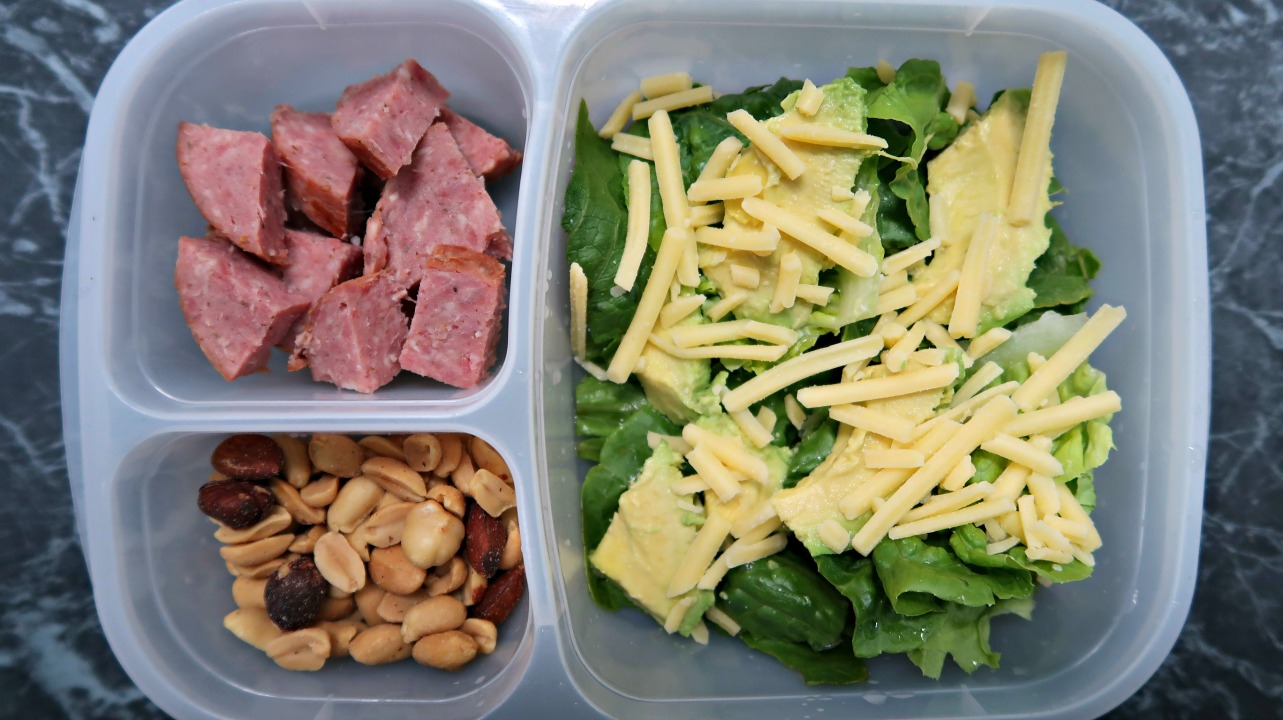 Keto Packed Lunch Ideas
When you're on a restrictive diet like the Ketogenic Diet, you can make mealtimes easier for yourself by always packing a lunch box full of goodies for a day away from home.
Being prepared is the key to success (plus it also helps avoid the danger of going off plan) and it's so easy to do with just a tiny bit of pre-organization.
In this post I'll share a few packed lunch examples and then loads of ideas for you to mix and match your own low carb, keto diet packed lunches on the go.
First of all, in the above lunch box, you'll find:
Salad portion – bed of greens topped with avocado and grated cheese
Protein portion – sliced salami
Snack portion – mixed salted nuts
For more healthy fats you could also pack your sour cream, mayo or salad dressing of choice in a salad dressing container.
Keto Packed Lunch Ideas Video
The above lunch box was taken for a day out at the Melbourne Zoo and kept me nourished for the full day of adventure. Here's a video of my meals on the day:

Here's another lunch/food to go example, it contains:
Green Salad – Lettuce, Avocado & Pine Nuts
Macadamia Nuts
Cheese
Red pepper on the side
Optional Protein Shake for added nourishment if needed
Sometimes a whole box of snacks can make the perfect meal on the go. Here's what's included in the below snack box:
Corned Beef Silverside
Pickles
Avocado
Chopped Nuts
Grated Cheese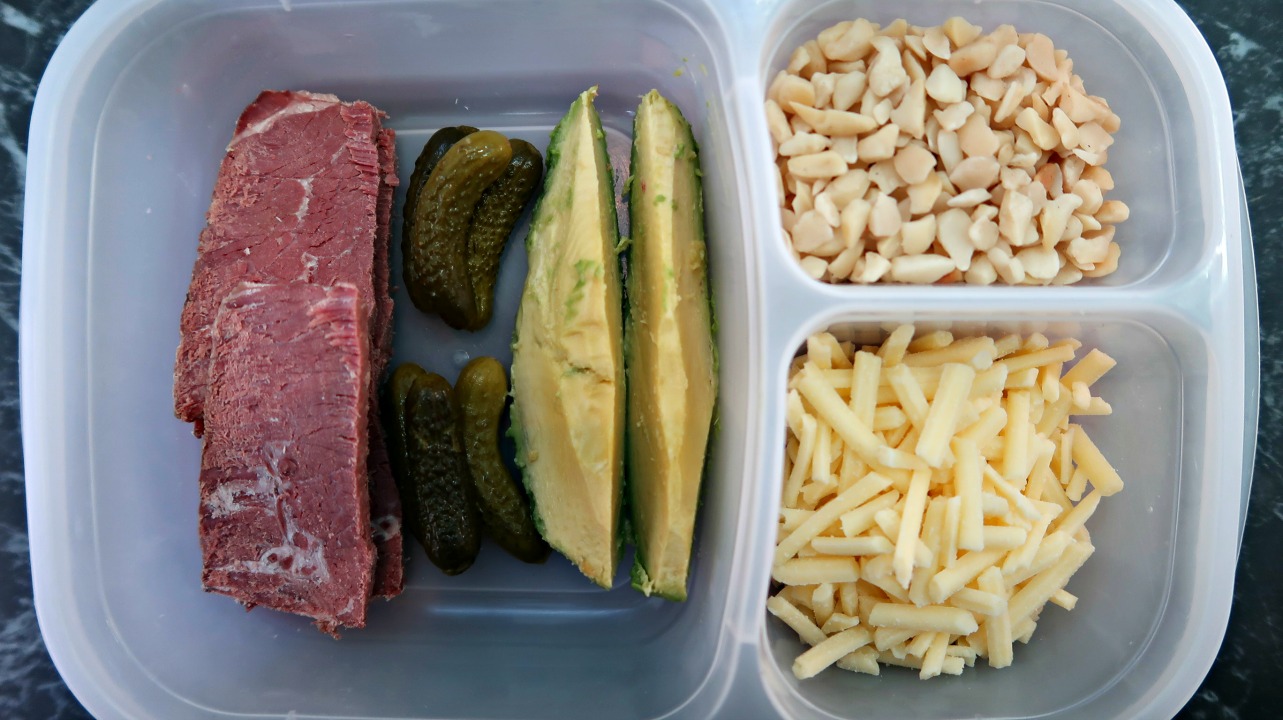 The above meal prep containers include:
Leftover roast chicken
Turmeric Sauteed Cauliflower
Hard Boiled Eggs
The above meal prep containers include:
A bed of spinach
Silverside
Sauteed Broccoli
Sour Cream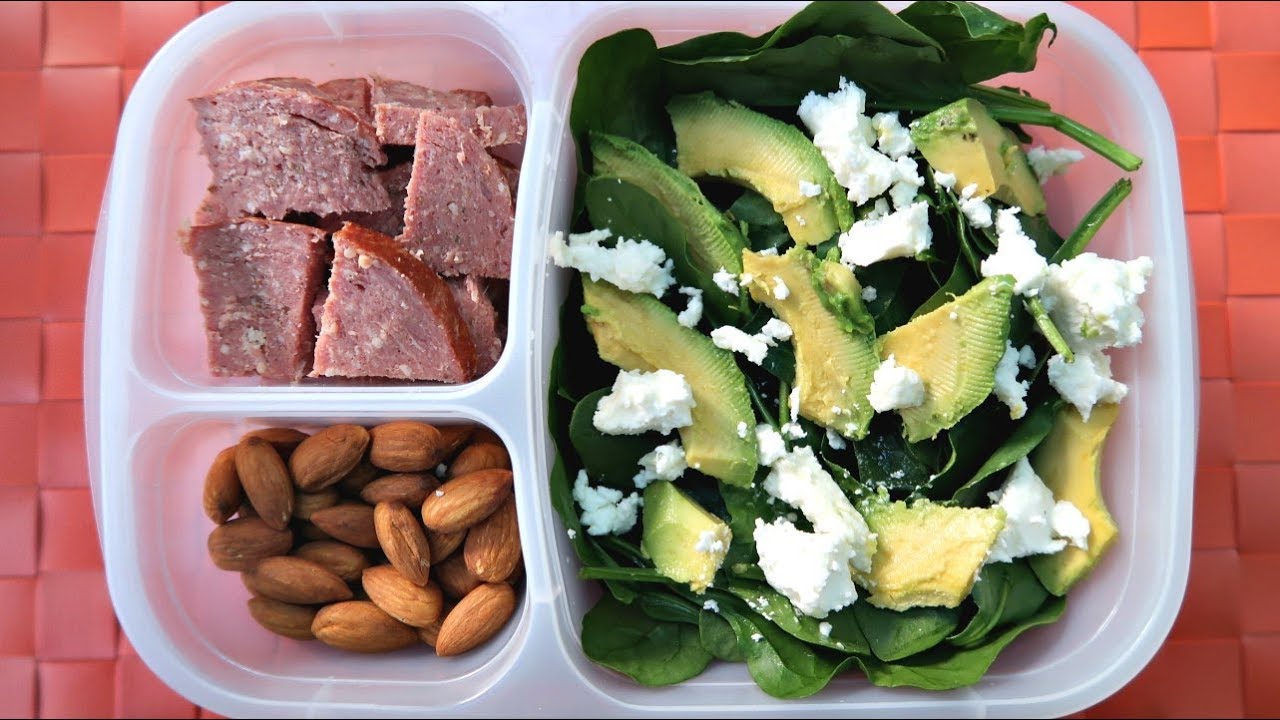 As you can see, I have my favourite ingredients, which I mix and match and they appear time and time again in my packed lunch boxes.
In the above lunch box, there's:
A salad of spinach, avocado and feta which is topped with avocado oil and salt.
A portion of chopped salami.
A portion of whole almonds.
Here are even more Keto Packed Lunch Ideas:
Bunless Burgers
Egg Salad
Devilled Eggs
Chicken Salad
Soup in a flask
Chicken/Vegetables/Bone Broth or Stock
Sauteed Vegetable of Choice
Roasted Vegetable of Choice
Nuts
Cheese
Nut Butter
Dinner Leftovers
Be sure to bookmark, save and pin this page to come back to, because I regularly add more keto packed lunch ideas to the collection.

More Low Carb Inspiration:
I launched the Quick Start To Keto Diet recently to help those of you wanting to start the Keto Diet but not sure how to begin. It's the helping hand I would have loved when I started and I put it together to help you. Click here to learn more.
Subscribe to receive the FREE weekly newsletter, packed full of easy recipes and food inspiration plus exclusive, subscriber only content. Click here to Subscribe by Email.
Disclaimer – this post is meant for informational post only and should not be construed as medical advice. Please consult with your health professional before making any dietary changes.
Disclosure – this post contains affiliate links.