Low Carb Grocery List – Keto Diet friendly foods which helped me lose 16kg/35lbs to put onto your shopping list plus video grocery haul.
Low Carb Grocery List
It can be tricky to know exactly what foods are low carb and keto diet friendly. I put together this post to share all the foods that I've enjoyed while following the low carb keto diet, that have helped me lose over 16kg/35lbs.
Here's a list of go to low carb grocery list staples to add to your shopping cart each week:
Vegetables
Cauliflower
Cucumber
Cabbage
Broccoli
Spinach
Celery
Mushrooms
Garlic
Radishes
Brussel Sprouts
Green Beans
Leafy Greens
Asparagus
Eggplant
Peppers
Tomatoes
If you need a little help with meal planning I suggest Balanced Keto Weekly Meal Plans, where you'll get weekly Keto Diet Meal Plans delivered straight to your Inbox. Get 7 days of meal planning every week – all done for you! Click here to learn more.
Dairy – All Full Fat
Butter – Salted & Unsalted
Single/Double/Whipping Cream
Sour Cream
Cream Cheese
Mascarpone Cheese
Grated Cheese
Parmesan
Blue Cheese
Brie
Haloumi
Feta
Yoghurt (Plain Natural/Greek – check carefully for carb content)
Protein
Eggs
Fish – Tuna, Salmon, Sardines
Beef
Lamb
Chicken
Pork
Bacon
Salami
Sausages (Check carefully for carb content!)
Fats
Avocado
Butter – Salted & Unsalted
Lard
Nuts & Seeds – my favourites are macadamias, pine nuts and chia seeds
Other
Almond Milk
Shredded Coconut
Berries – fresh and frozen strawberries, raspberries etc.
Cacao
Stevia
Flours – Almond/Coconut
Salt
Stock Cubes
Kombucha
Tea
Sauerkraut, pickles & other fermented vegetables
Tomato Sauce (Check carefully for carb content!)
Pasta/Pizza Sauce (Check carefully for carb content!)
Salad Dressing (Check carefully for carb content!)
Low Carb Grocery List Video
Here's a video of a typical grocery haul, hit play below or click here to watch on YouTube.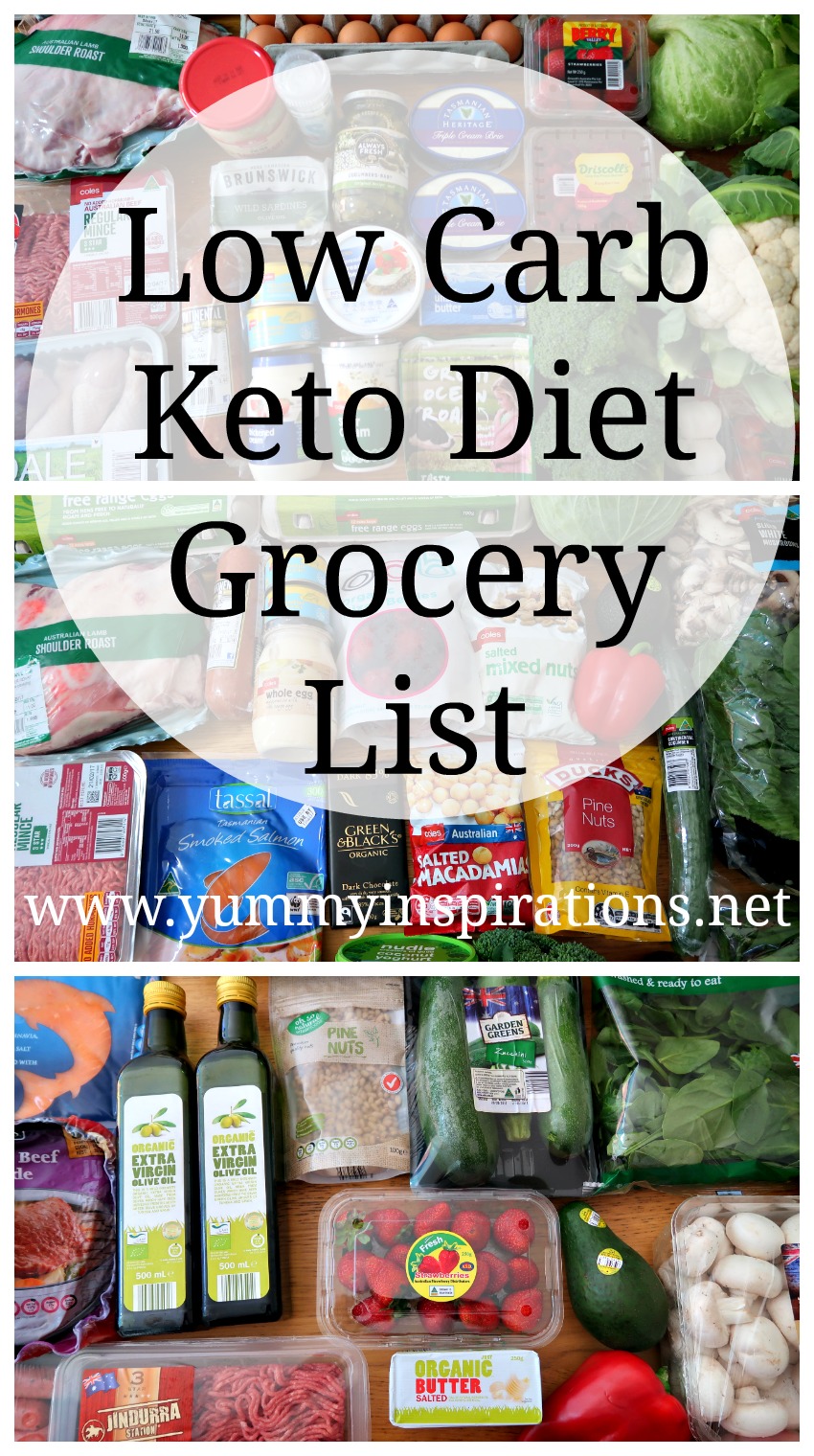 More Low Carb Inspiration:
I launched the Quick Start To Keto Diet recently to help those of you wanting to start the Keto Diet but not sure how to begin. It's the helping hand I would have loved when I started and I put it together to help you. Click here to learn more.
Subscribe to receive the FREE weekly newsletter, packed full of easy recipes and food inspiration plus exclusive, subscriber only content. Click here to Subscribe by Email.
Disclaimer – this post is meant for informational post only and should not be construed as medical advice. Please consult with your health professional before making any dietary changes.
Disclosure – this post contains affiliate links.