Keto Day 1 – Meals & Tips for surviving your 1st day on the low carb ketogenic diet – with a menu and meal plan ideas for day 1 and beyond. Great whether you're wanting weight loss or clean eating for good health.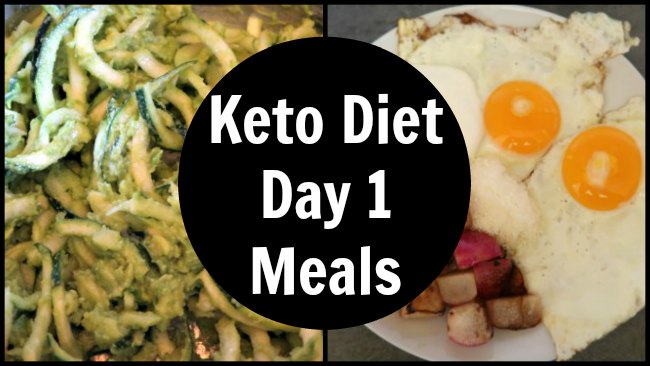 Keto Day 1
So, the day has arrived, today is my first day back on Keto after more than a few months off. I'm going to write today's blog post in real time through the day, as I have each meal and share any other thoughts I feel will benefit you.
So, if you decide to embark on the Ketogenic Diet, here's the menu for my Keto Day 1, that you may be inspired by and adapt to your tastes.
I also filmed a video of my full day of meals, chatting you through as I went. You can hit play below to watch my Keto Day 1 experience.
Breakfast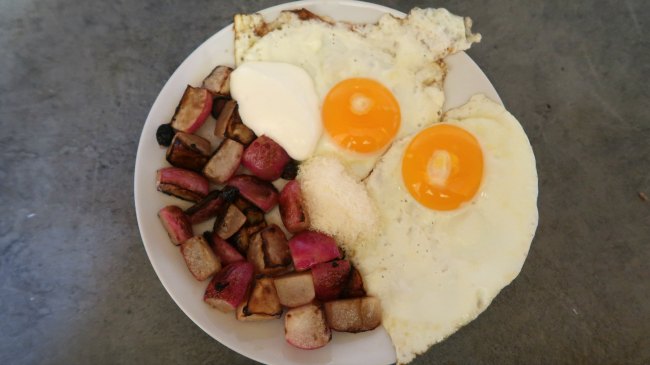 My regular breakfast most mornings when on keto is eggs and veggies. Start by cooking your vegetables of choice in plenty of butter or coconut oil. Here are some ideas for low carb vegetables to enjoy for breakfast:
Mushrooms
Spinach
Broccoli
Cauliflower
Radish
Green Beans
Asparagus
Garlic
When the vegetables are cooked to your liking, remove to a plate and fry 2-3 eggs in more butter or coconut oil.
Serve topped with salt, pepper or your seasoning of choice and sour cream or avocado on the side for more healthy fats.
In this instance I went for radish and garlic, cooked until beautifully golden. I also enjoyed a sprinkling of Parmesan and a healthy serve of sour cream on the side with my fried eggs for my Keto Day 1 breakfast.
Lunch
A bit of a back story before I get to lunch – As we have recently moved (from Australia to Ireland) and I'm slowly accumulating housewares. (Yes, we moved with only suitcases and are pretty much starting over again with stocking our kitchen!) I don't have much to prep and cook food just yet. (I'm working on it, slowly!)
With that in mind, I wanted to make an Avocado and Zucchini pasta dish for lunch, but didn't have the tools I usually have – such as a spiralizer or mini food processor.
So, I improvised and bought already spiralized zucchini noodles and used a potato masher to mash the ingredients together. And, a small microplane grater to grate the garlic. It worked surprisingly well, even though it was more effort than throwing everything into a mini food processor to create the avocado sauce.
Here's what's in my sauce:
1 Avocado
2 Tablespoons Extra Virgin Olive Oil
2 Garlic Cloves. peeled
Salt
Grated Cheese
Cream
I mashed the avocado, straight into the saucepan I was using, so that saved on washing up. Once the avocado was smooth, I added the oil, grated over the garlic and added a few generous shakes of salt. Simply mash the ingredients together and add a few handfuls of cheese and some cream, if you want the sauce to be creamy.
Add zucchini noodles to the sauce and then heat until bubbly and the cheese has metled. There are so many variations to this tasty keto dish – you could use your cheese of choice, add lemon or any other flavouring of choice.
Dinner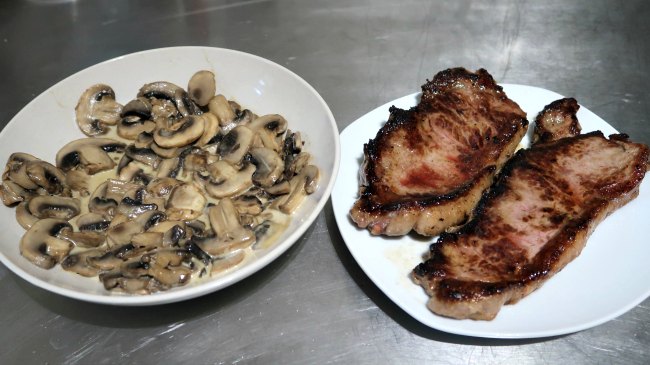 For dinner, I had all the ingredient to make my favourite steak with mushroom sauce. (Pictured above.) But, dinner time came and I just wasn't hungry. I'd had a hot chocolate and bowl of strawberries and cream through the afternoon as snacks and I just didn't feel like dinner.
When I was knew to Keto first time around, this would NEVER had happened. But, over the past 6 months I've been practising intermittent fasting every day, fasting from 4pm until 8am the next morning. I thought that getting back into Keto I'd be hungry and feel like dinner, but that just wasn't the case.
So, my dinner was meant to be the above steak and mushrooms which I would have cooked as follows:
Cook the mushrooms in plenty of butter until done to my liking.
Pour cream over the mushrooms and allow to bubble away for a minute or so to thicken.
Move the creamy mushroom sauce aside and add more butter to the frying pan.
Remove the steaks from the fridge about 5 minutes before needing them, open them up and allow them to come to room temperature.
Cook the steaks in the buttery frying pan for about 5 minutes a side, or until done to your liking.
I usually make two steaks, as pictured above, for myself and my Husband.
Snacks
For keto day 1, snacks will be LIFE! While you're adjusting to the low carb, high fat way of eating, you'll find that you're hungry ALL THE TIME! Here are some of the snacks I had to hand to help me through day one. Note that I didn't have all the snacks, but I had them to hand, depending on what I felt like.
Berries and Cream – on of my all time favourite, go to snacks, a couple of chopped strawberries, blueberries or raspberries topped with a generous swirl of whipped cream. It's the perfect sweet treat and I enjoyed it pretty much daily during my 8 months of Keto last year.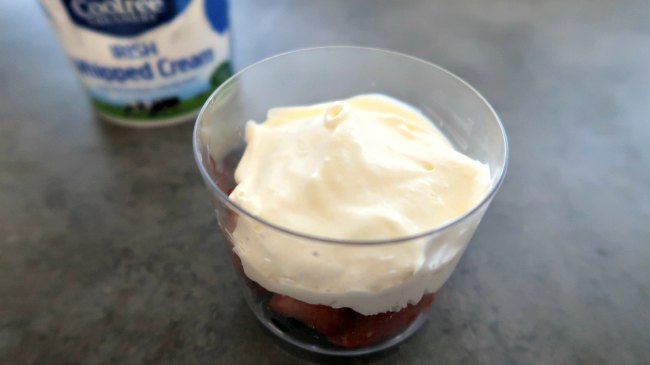 Hot Chocolate – the perfect warming snack to keep you very full between meals. Here are 5 Keto Hot Chocolates to choose from.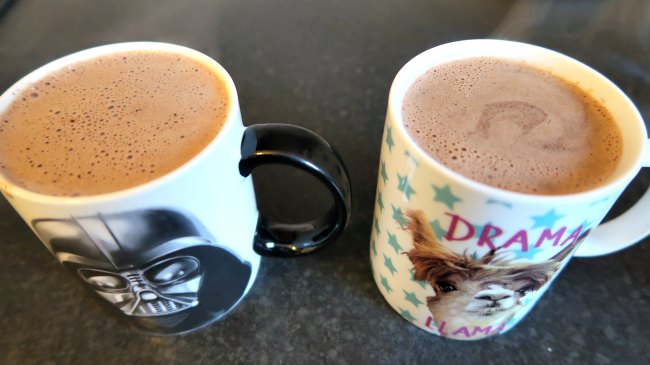 Cheese – whatever cheese you have in your fridge, cut off a portion for an instant snack. Or, you could enjoy grated cheese by the handful or babybel or other individual sized cheese if you'd prefer.
Veggie Sticks & Mayo or Sour Cream (or feel free to enjoy your low carb dipping sauce of choice)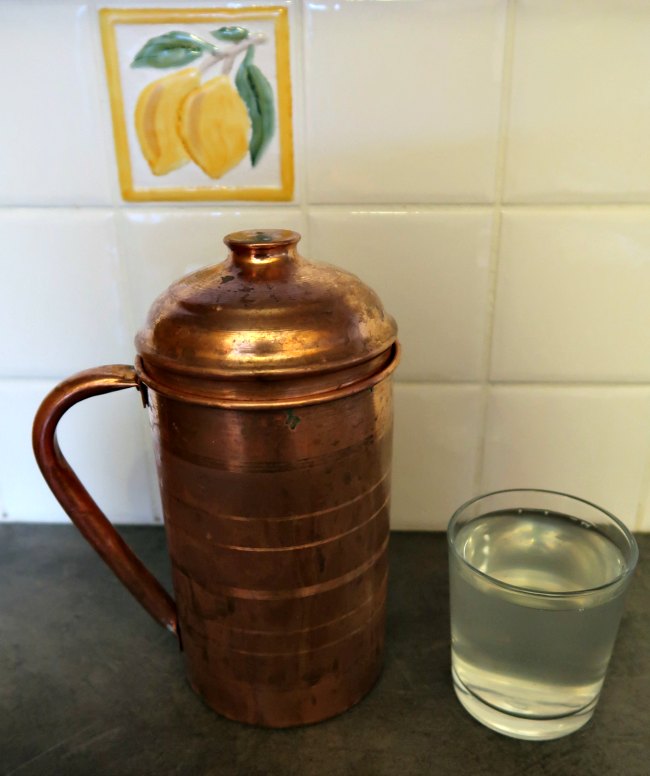 Keto Lemonade – a drink recipe I found in the "The Keto Diet" book that's an easy way to get electrolytes and help avoid the dreaded "Keto Flu". (Click here to take a look at the book – which is a must and, in my opinion, required reading when you're following the Keto Diet.)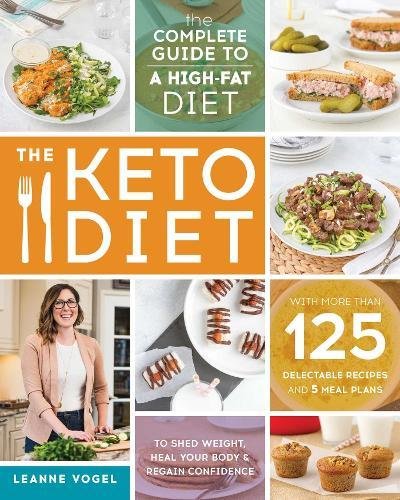 As I mentioned, I found I wasn't hungry at all towards the end of the day. It's been months since I've been on full Keto, so it's amazing how my body has remembered how to get back into a fat adapted state so quickly.
I honestly found it so much easier to get back into the swing of things than I thought, and am so happy to be back on Keto and enjoying Keto Meals again.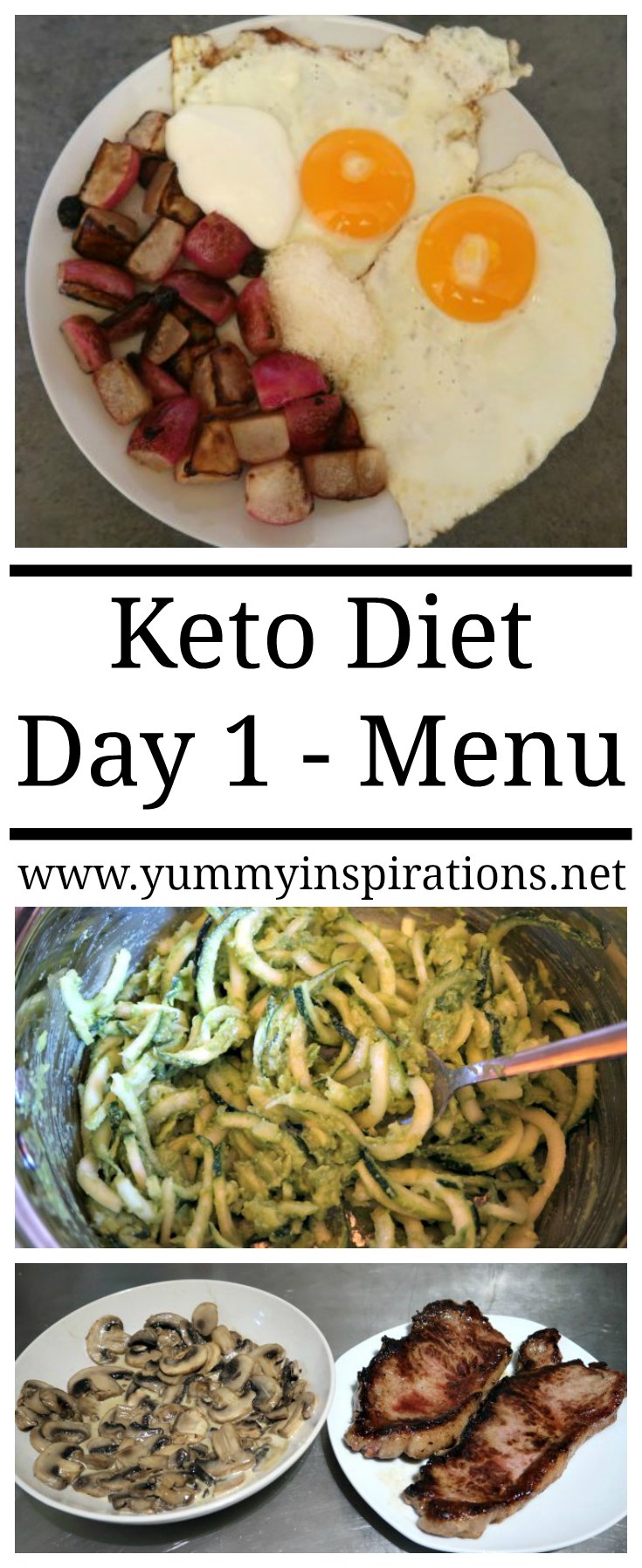 If you'd like to join me and get started with Keto, or back onto it again, then here are some posts to inspire you:
Keto Tips For Beginners – tried and tested tips to get started with the Keto Diet.
How To Get Into Ketosis – the steps I take to get into Ketosis.
How To Start The Keto Diet – the steps to take to get started with the Keto Way.
7 Day Keto Diet Plan – a week of meal ideas to inspire you with low carb breakfasts, lunches and dinners.
Subscribe to receive the FREE weekly newsletter, packed full of easy recipes and food inspiration plus exclusive, subscriber only content. As a BONUS you'll also receive a FREE 7 Day Keto Diet Meal Plan. Click here to Subscribe by Email.
Disclaimer – this post is meant for informational post only and should not be construed as medical advice. Please consult with your health professional before making any dietary changes.
Disclosure – this post contains affiliate links.