7 Keto Vegetarian Breakfast Recipes – A Week Of Easy Low Carb Diet Plan Vegetarian Breakfasts and Ideas that are all gluten free and ketogenic diet friendly.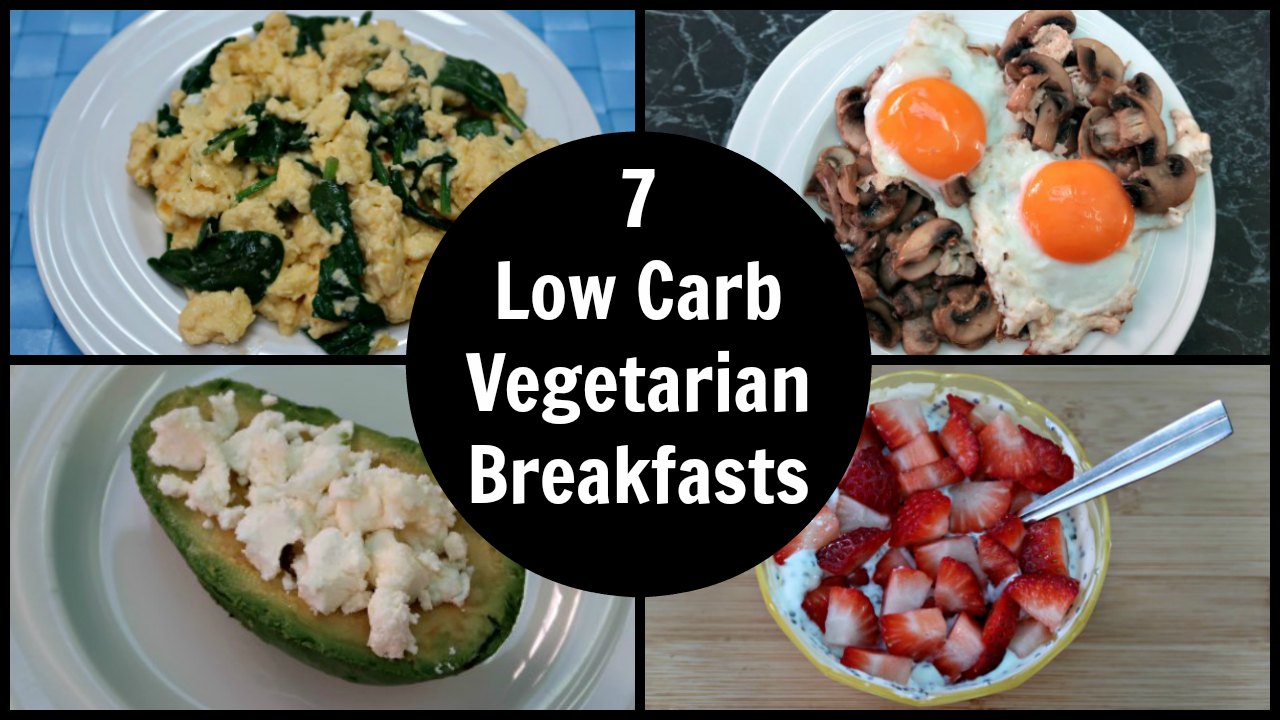 7 Keto Vegetarian Breakfast Recipes
In the past I've shared a week of keto breakfast ideas and also a week without eggs. Today's Keto breakfast edition is all about vegetarian ideas.
Whether you're vegetarian or just looking for more low carb, keto diet friendly breakfast ideas, you're sure to find heaps of inspiration.
1. Fried Eggs and Vegetables
Start by sautéing your low carb vegetable of choice from the following selection:
Mushrooms
Cauliflower
Broccoli
Green Beans
Spinach
Once they are cooked to your liking, make room in your frying pan, add a bit of butter or coconut oil and then fry your eggs until cooked. You could serve with some sour cream or avocado on the side for extra healthy fat and flavour.
2. Breakfast Smoothie
Combine together your choice of keto friendly breakfast ingredients into a delicious breakfast smoothie. Here are some ideas to mix and match to create your own keto vegetarian breakfast smoothie:
Almond Milk
Canned Coconut Milk
Coconut/Greek/Natural Yoghurt
Fresh or Frozen Berries – strawberries, blueberries, raspberries
Stevia
Cream
Cream Cheese
Mascarpone
Coconut Oil/MCT Oil
Chia Seeds
Cacao Powder
Protein Powder
3. Cheesy Cauliflower
This is sort of like having mac and cheese for breakfast. Simply cook cauliflower in a frying pan with heaps of butter until it's cooked to your liking.
Then, add a couple of tablespoons or cream and sour cream and then sprinkle over grated cheese and cook until bubbly and the cheese has melted.
4. Chia Pudding
In a bowl, combine together low carb yoghurt, cream, stevia and chia seeds. Stir to combine and then you can enjoy your pudding immediately or leave to thicken for a few minutes, hours or overnight in the fridge.
The longer the chia pudding sits, the thicker it will become. Once you're ready to enjoy your chia pudding, add a handful of chopped berries, nuts or your topping of choice.
5. Avocado & Feta
This breakfast is super simple yet tastes AMAZING. All you do is halve an avocado, scoop the flesh out and fill it with some crumbled feta. I like to smash mine onto the plate and eat it by the spoonful.
You could also drizzle over a little avocado or olive oil and add a shake of salt.
6. Hot Chocolate
While some Keto followers choose to omit breakfast in favour of an intermittent fast or go for a bulletproof coffee as their breakfast. I sometimes just have a hearty hot chocolate as my breakfast.
I find this low carb hot chocolate recipe fills me up and can easily take me through until lunch time.
7. Scrambled Eggs with Spinach & Feta
Prepare scrambled eggs following your favourite recipe. When the eggs are almost cooked to your liking, crumble over some feta and add a couple of handfuls of spinach.
Cook until the feta has melted slightly and the spinach has wilted.
Keto Vegetarian Breakfast Recipes Video
Here's the video where you can watch me prepare this week of keto vegetarian breakfasts. Hit play below or click here to watch on YouTube.

More Keto Vegetarian Breakfast Ideas:
I launched the Quick Start To Keto Diet recently to help those of you wanting to start the Keto Diet but not sure how to begin. It's the helping hand I would have loved when I started and I put it together to help you. Click here to learn more.
Subscribe to receive the FREE weekly newsletter, packed full of easy recipes and food inspiration plus exclusive, subscriber only content. Click here to Subscribe by Email.
Disclaimer – this post is meant for informational post only and should not be construed as medical advice. Please consult with your health professional before making any dietary changes.
Disclosure – this post contains affiliate links.