15 Low Carb High Protein Snacks – Ideas for easy keto diet friendly foods to enjoy at home or on the go – all need little to no prep and including meaty and vegetarian options.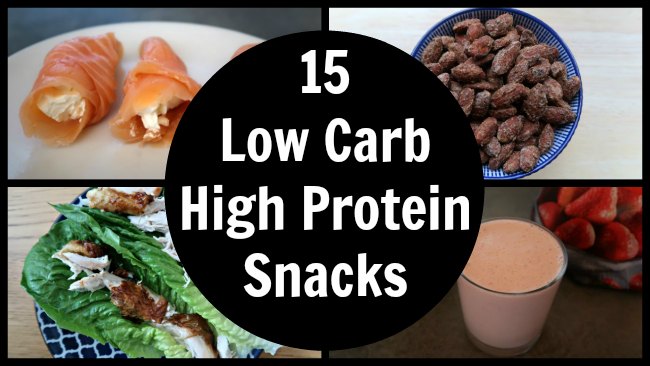 15 Low Carb High Protein Snacks
There are often times through the week that I just need a snack to see me through until the next meal. I try and include nutritious, low carb high protein snacks wherever possible to help keep me satiated and on track.
Today I'm sharing 15 of my go to snacks with you – some are meaty, some vegetarian and all are easy to prepare and tasty between meal options.
1. Deviled Eggs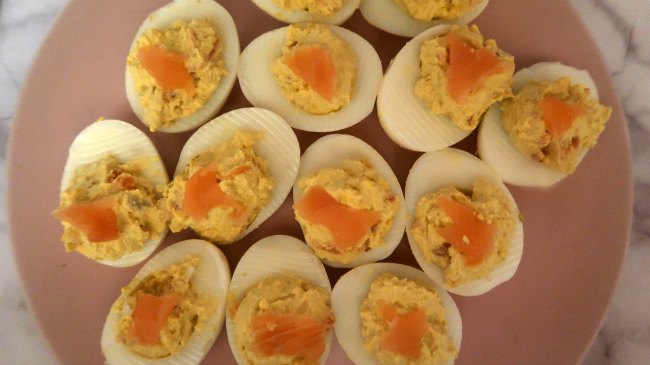 A classic low carb high protein snack is deviled eggs. I've shared a couple of options on my blog, like the above smoked salmon deviled eggs and also 2 ingredient deviled eggs.
2. Nuts & Seeds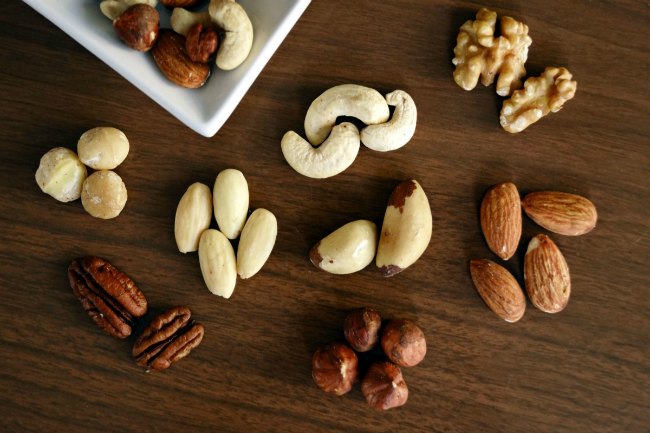 Keep a selection of nuts and seeds on hand to snack on. Just be sure to exercise portion control as carbs can very quickly add up when you're snacking on nutritious nuts.
You could even create a low carb high protein trail mix with nuts, seeds and coconut. Then, portion out a serving for each day of the week, so you have a low carb, high protein snack ready to go.
3. Peanut Butter or Almond Butter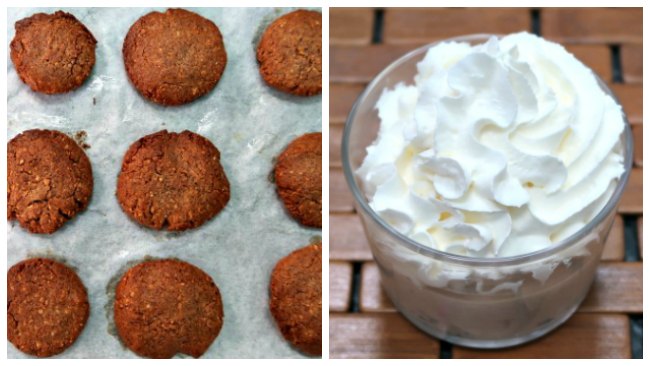 You can simply enjoy by the spoon full, get those small pouches (like these) to keep on hand for snacks. Or, you could make a sweet treat such as almond butter cookies or peanut butter mousse.
4. Smoked Salmon Roll Ups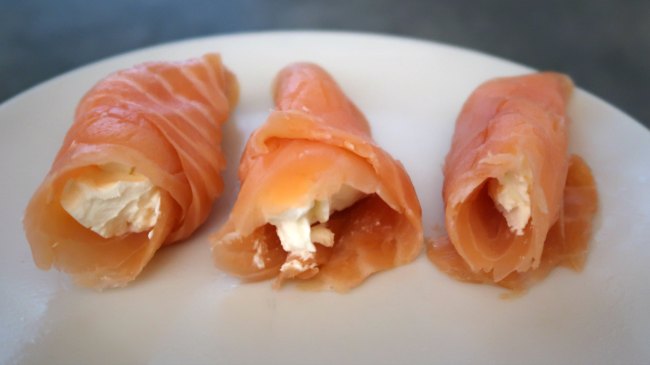 Smoked salmon is an indulgent low carb, high protein food and one that I enjoy from time to time.
You could simply enjoy a few slices of smoked salmon or spread with cream cheese and roll into a smoked salmon roll up.
5. Jerky/Biltong/Salami Sticks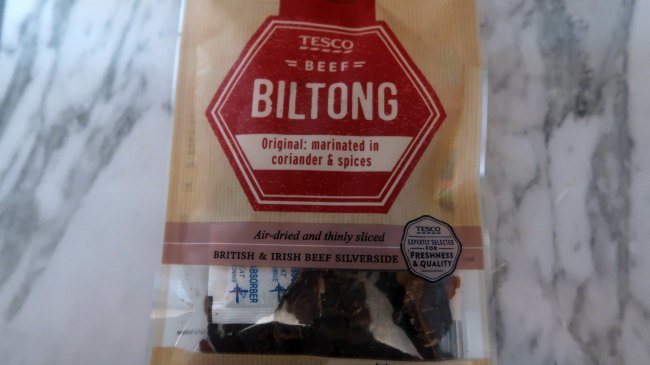 I grew up in South Africa where Biltong is a regular meaty treat. You can also enjoy beef jerky, salami or salami sticks.
Just be sure to carefully read the nutrition panel for hidden sugars that can make this naturally low carb food a very high one.
6. Tuna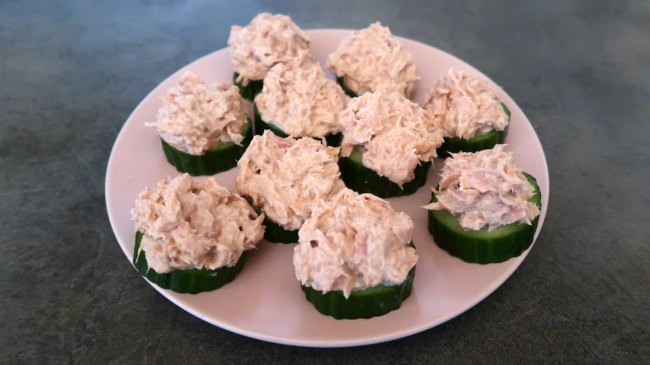 Tuna is a snack to always keep on hand. You can whip up a quick tuna salad by topping spinach with a small tin of tuna and maybe adding a dollop of sour cream or mayo.
Or you could combine tuna, mayo or sour cream for an instant tuna dip which you can enjoy by the spoon full or as a topping for cucumber slices, as pictured above.
7. Turkey/Chicken Roll Ups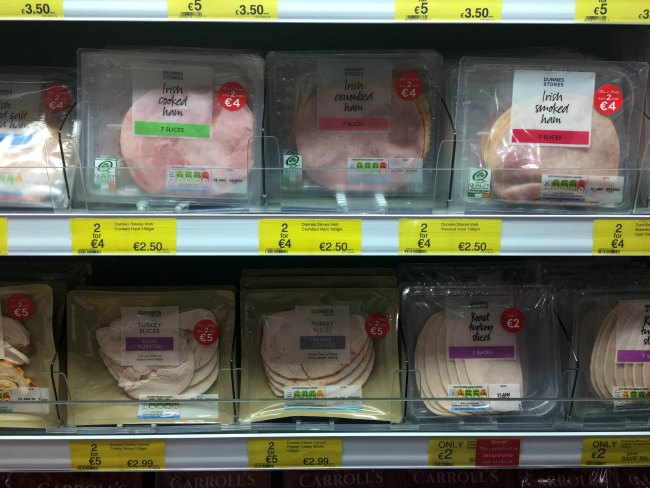 Sliced turkey, chicken or other deli meat is great for an instant roll up. You can just enjoy the protein snack as is or fill with avocado, mayo or your roll up filling of choice.
Pick a low carb and high protein yogurt, serve out a portion, layered with nuts and low carb berries. (Here's more information about low carb yogurt and topping ideas.)
9. Hard Boiled Eggs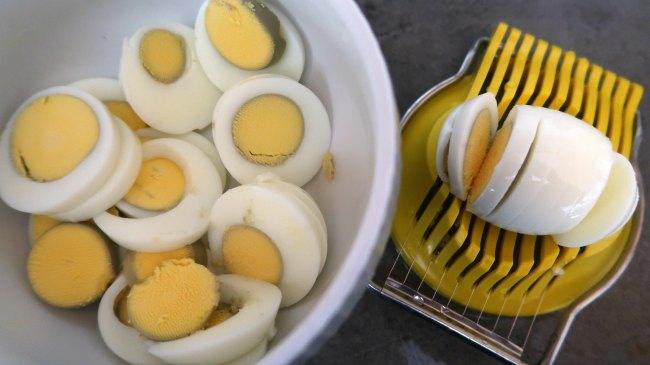 Each Sunday I tend to hard boil a saucepan full of eggs to enjoy as snacks through the week. I may make deviled eggs (as mentioned above) or simply slice, salt and enjoy.
Another go to is tuna and egg salad, which combines together a couple of high protein staples. (Here's the recipe.)
10. Cheese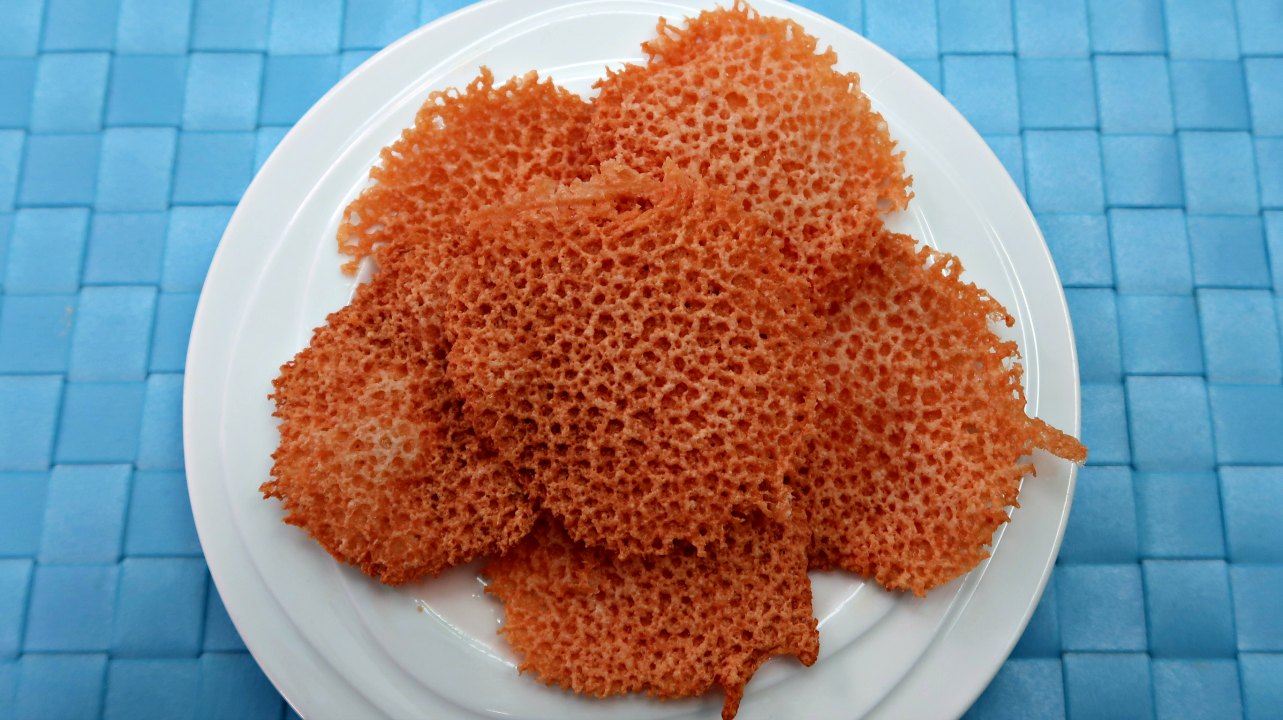 Cheese is one of the easiest low carb high protein snacks – there are just so many instant ways to enjoy it. You could simply enjoy a Babybel cheese, sliced or grated cheese, brie or your favourite cheese.
Or, you could make crispy cheese crackers. (Pictured above) All you have to do is drop a tablespoon of grated cheese per cracker into a hot frying pan. Then, just watch and wait as the cheese melts and becomes a crispy cheese cracker.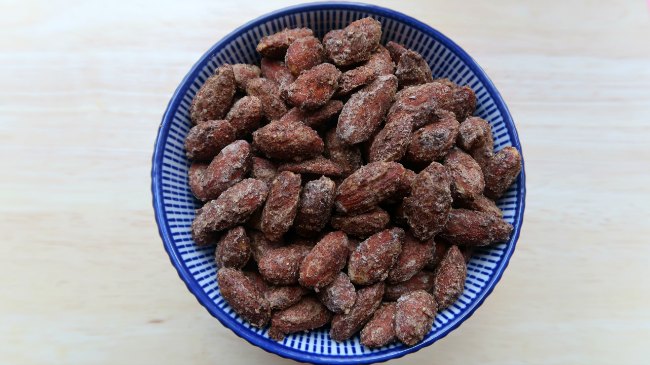 An easy low carb snack that's sweet and tasty. They are simple to prepare (here's the recipe) and great to have on hand for when sweet cravings strike.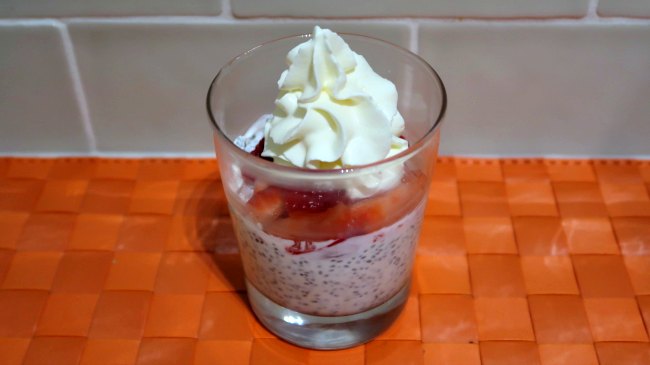 A chia pudding is great to make ahead and have ready and waiting in the fridge for when you're after a snack. (Here's the easy recipe.) Use low carb, high protein yogurt and nutritious chia seeds for a wonderfully nourishing snack.
13. Dark Chocolate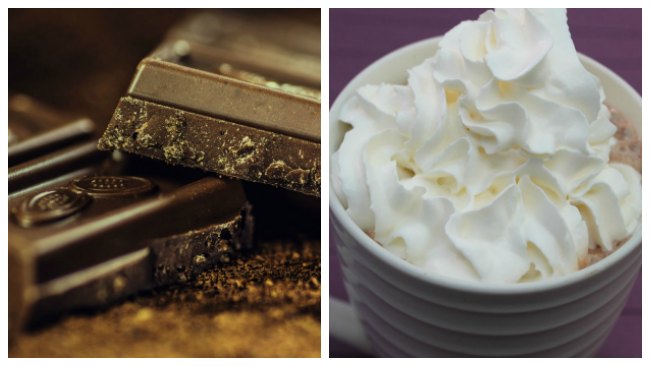 A low carb, 85% or 90% dark chocolate (like this) can be low carb and high protein. So, you can enjoy a row as a snack, or make a quick hot chocolate by melting a row of dark chocolate in a cup of low carb milk. (Here's the full recipe.)
14. Leftover Roast Chicken/Lamb/Beef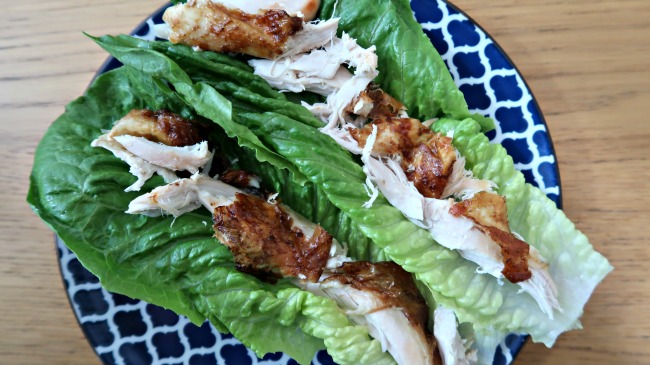 Whatever you had for dinner the previous day can be enjoyed as a low carb high protein snack. You can simply enjoy a portion of leftover chicken/beef on it's own or in lettuce cups topped with mayo or sour cream, as pictured above.
15. Protein Smoothie/Shake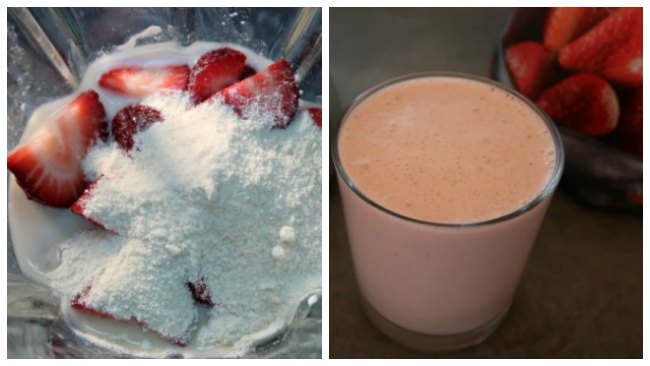 And the final of these low carb high protein snacks is a protein smoothie or shake. You can add your go to low carb protein powder to your favourite smoothie. I enjoy mixing a handful of berries, milk, cream and protein powder together for a berry protein smoothie. (Here's the full recipe.)
Or, you could just mix a portion of protein powder with your low carb milk of choice for the perfect high protein snack.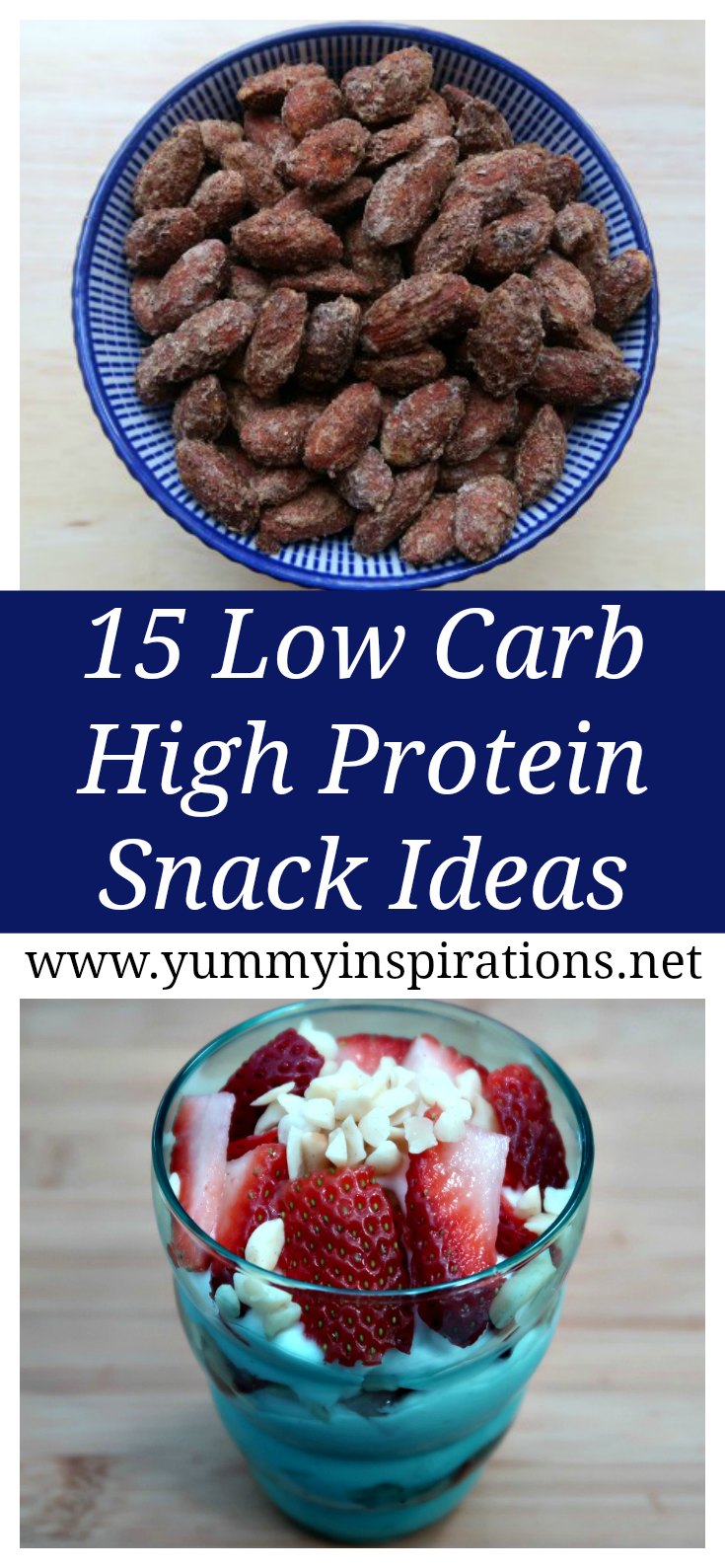 As you can see, there are loads of low carb high protein snacks to enjoy through the week. You can keep a couple on hand to enjoy at a moments notice and also maybe make one or two through the week to have when you need a snack but don't want to go off plan.
More Low Carb Snack Inspiration:
Subscribe to receive the FREE weekly newsletter, packed full of easy recipes and food inspiration plus exclusive, subscriber only content. As a BONUS you'll also receive a FREE 7 Day Keto Diet Meal Plan. Click here to Subscribe by Email.
Disclaimer – this post is meant for informational post only and should not be construed as medical advice. Please consult with your health professional before making any dietary changes.
Disclosure – this post contains affiliate links.